We are so excited to announce our caregiver of the month: Ashley!
Ashley joined the Flourish in Place team in August 2020 during the COVID-19 pandemic. At the time, Ashley had been working as a chef at Seminole State College, but she was laid off when the college had to close due to the pandemic. The loss of her job caused Ashley to want to change her career path which led her to become a Flourish in Place caregiver.
When Ashley began working with us, she studied the free course work we provided, and then took the state Home Health Aide (HHA) certification test which she passed with flying colors. We then guided her to get the other training and certifications she needed to be eligible to work as a certified HHA for a licensed home health agency.
Recently, Ashley took the Patient Care Technician course of study at Southern Technical Institute. She is also currently doing her clinical studies at Advent Health to achieve her goal of becoming a traveling phlebotomist. She plans to do her phlebotomy work on the weekends and continue serving Flourish clients during the week.
Ashley likes being a caregiver because she can make a difference in people's lives. Both of her current clients live alone and their families are far away, and they have days when they get discouraged and want to give up. Ashley listens and encourages them to find joy in living in spite of their health issues and advanced age.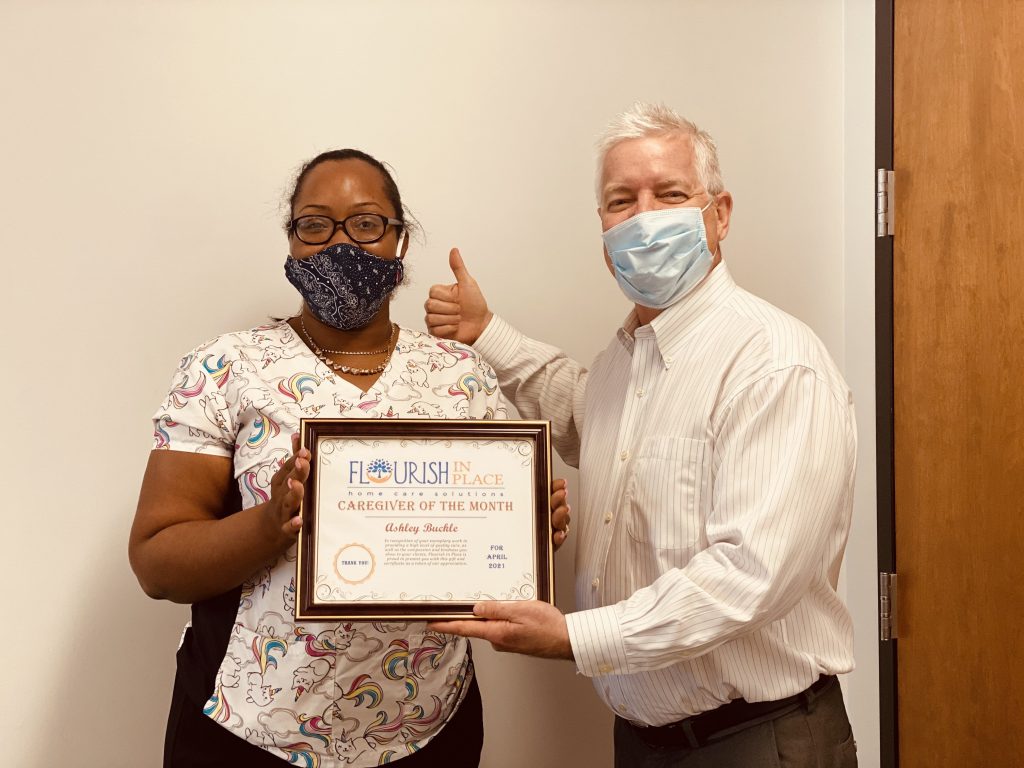 Pictured: Ashley with our co-founder and president Kim.
Ashley grew up in West Palm Beach and is married to her high school sweetheart. The couple moved to Orlando in 2010, looking for a better life for her daughter (now 17) and son (6).
Ashley's clients and their families absolutely adore her—we get glowing reports from all of them! Her clients consider Ashley to be part of their families and Ashley treats her clients with utmost respect and kindness. Ashley is deeply connected with the clients Flourish has matched her with, so much so that she has even visited them over the weekend "off the clock" and introduced her children to them.
After Seminole State College reopened, Ashley was offered her job back, but she declined and decided to stay with her Flourish in Place family. Ashley enjoys working for Flourish because we are understanding and demonstrate that we care about our employees. She also loves the flexible schedule of her job which allows her to get home to her young son during the week when her husband is still at work.
In her spare time, Ashley enjoys reading, fishing, and going to the park and exploring the woods with her son. Her son considers her a "cool mom" because she isn't afraid to get her hands dirty and do things like bait a hook.
Congratulations, Ashley, on how far you've come as a caregiver in such a short amount of time. We are so grateful to have such a compassionate, driven and hardworking person on our team, and we can't wait to see all of the incredible things you accomplish in the future!