Learn how our partnership with the First United Methodist Church of Orlando has helped our clients in new and exciting ways

At Flourish in Place, we're always looking for new and innovative ways to provide quality home care to our beloved clients. 
For example, our caregivers offer both art therapy and music therapy as new relaxation strategies to help seniors.
Recently, we have implemented sensory blankets into our wide range of services and methods we use to support our clients.
Continue reading to learn more about the benefits of sensory blankets and how the First United Methodist Church of Orlando helps us to provide these lap robes.

What are sensory blankets? 
Sensory blankets, also called lap robes or activity blankets, are blankets or quilts that have different items sewn on to them. The items sewn onto these blankets offer sensory stimulation that can provide a calming effect for seniors, especially those with Alzheimer's disease or other forms of dementia.
Sensory blankets can help seniors to relieve boredom and find comfort in repetitive behavior. The items on the blankets provide a variety of textures and colors, items that click or zip together, or even release a scent.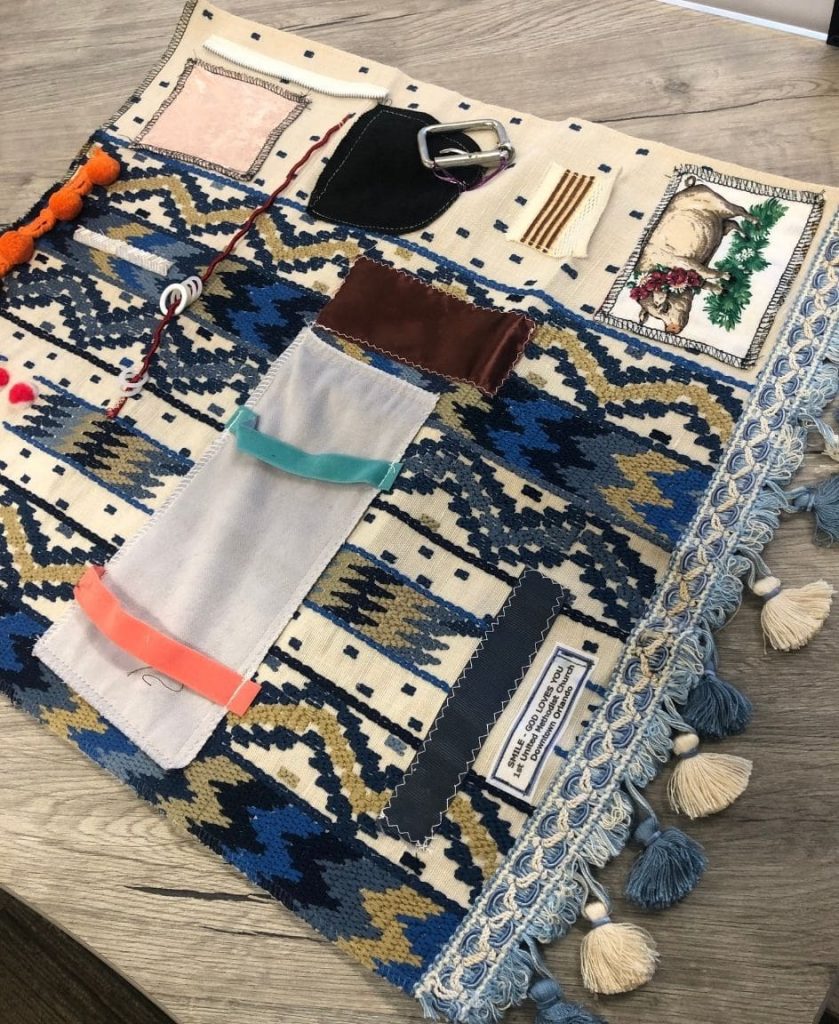 How can sensory blankets help seniors? 
Seniors with cognitive diseases, like Alzheimer's disease, may often feel agitated, irritated, or aggressive, so having a way to soothe and redirect their behavior is important.
Sensory blankets can greatly help relieve some of these symptoms as well as reduce stress, anxiety, and boredom. Many people engage in repetitive behaviors as a way to comfort themselves, and while this is not negative, some repetitive actions may be, such as biting nails or pulling hair. These sensory blankets give seniors an effective and harmless way of engaging in repetitive behaviors to provide themselves with comfort and calming feelings.
These blankets can be placed on seniors' laps when they're sitting or lying down or placed on a table. Caregivers or family members should encourage their loved one to fidget with the items on the blanket.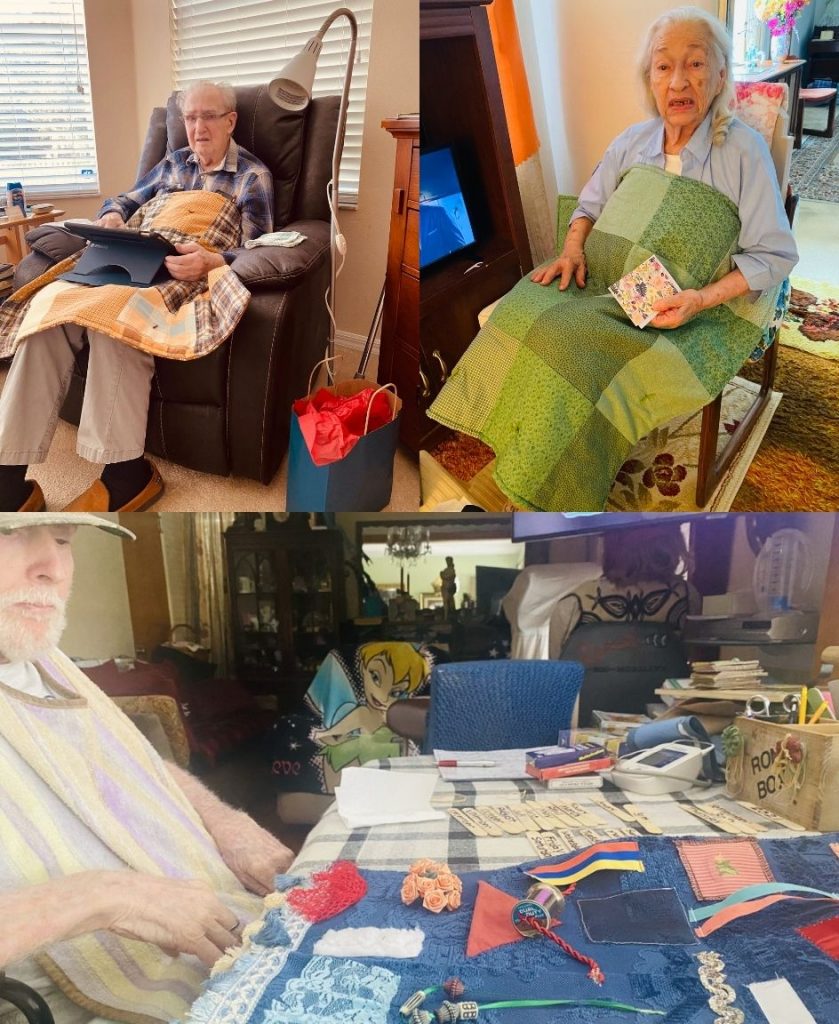 How Flourish in Place uses sensory blankets 
Flourish in Place co-founders, Kim and Melanie Lee, have been active members of the First United Methodist Church of Orlando since 1988. During this time, they have both held various leadership roles within the church.
Kim is currently the church's Lay Delegate to the Florida Annual Conference and sits on the Staff Parish Relations Committee and the Church Council.
Melanie currently leads the group, Forward Together: All Means All, that aims to move the church to be completely affirming, welcoming, and fully inclusive of all people, focusing on the LGBTQ community.
Both Kim and Melanie are longtime members of the New Covenant Sunday School Class, and Kim says his favorite role at church is singing bass in the Chancel Choir. "I've sung in the choir continuously since 1993 and also was in a men's quartet called "Him Tunes" for seven years," shares Kim.
The First UMC of Orlando has many groups, including Sewing for Others. This group of United Methodist women meet every week to work on various sewing projects, like clothing, sensory blankets, and school bags.
Sewing for Others has been donating sensory blankets to Flourish in Place since September, and they are distributed to many of our clients. We look forward to continuing to distribute these blankets and strengthening our partnership with this wonderful group.
"We are so grateful to the Sewing for Others group at First UMC Orlando for letting us give away these beautiful handmade items to our clients! It is another way we can show people we care and remind them God loves them, as it says on the tag sewn on each item." — Kim Lee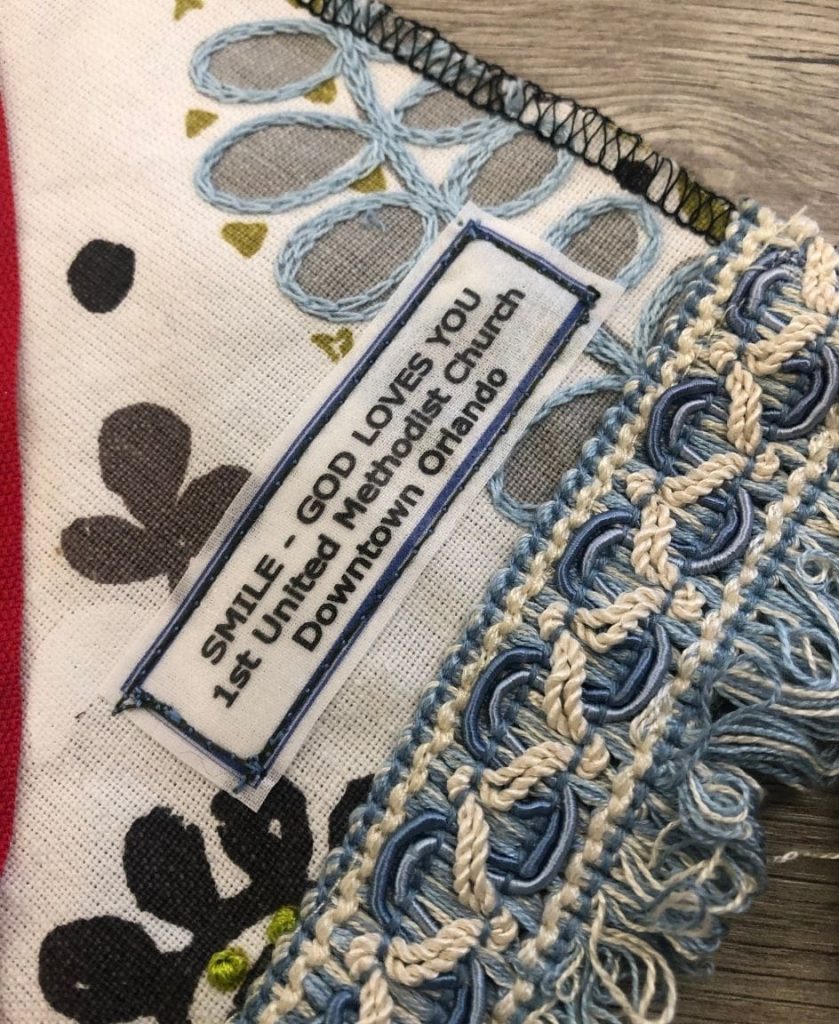 Looking for an in-home caregiver for you or your loved one? 
Flourish in Place provides home care options for all needs and budgets and specializes in helping families in Central Florida find the appropriate level of care for their loved ones.
Our trained caregivers can assist with a variety of needs including personal care, dementia care, cooking and serving nutritious meals, and companionship.
To learn more, please request your Free Consultation today!