We are so excited to announce our caregiver of the month: Bahiyyah!

Bahiyyah joined the Flourish in Place team in August 2019. She earned her Certified Nursing Assistant certificate after graduating high school and has many years of experience as a CNA. She worked as a CNA throughout her young adult life to help pay for college.
She has always felt passionate about caring for the elderly and feels great empathy and compassion for seniors. Bahiyyah absolutely loves to listen to their stories, and says that while some people look down on caregiving work, she has always seen it as a meaningful and important profession.
Earlier in life, Bahiyyah had an opportunity to earn more and help support her family working in telecommunications and at the Permitting Department of the City of Winter Park. She missed caring for seniors as a CNA for the years she was pursuing other careers. She later retired from the City of Winter Park and decided to return to work part-time doing something she is passionate about, while also helping to care for her young granddaughter.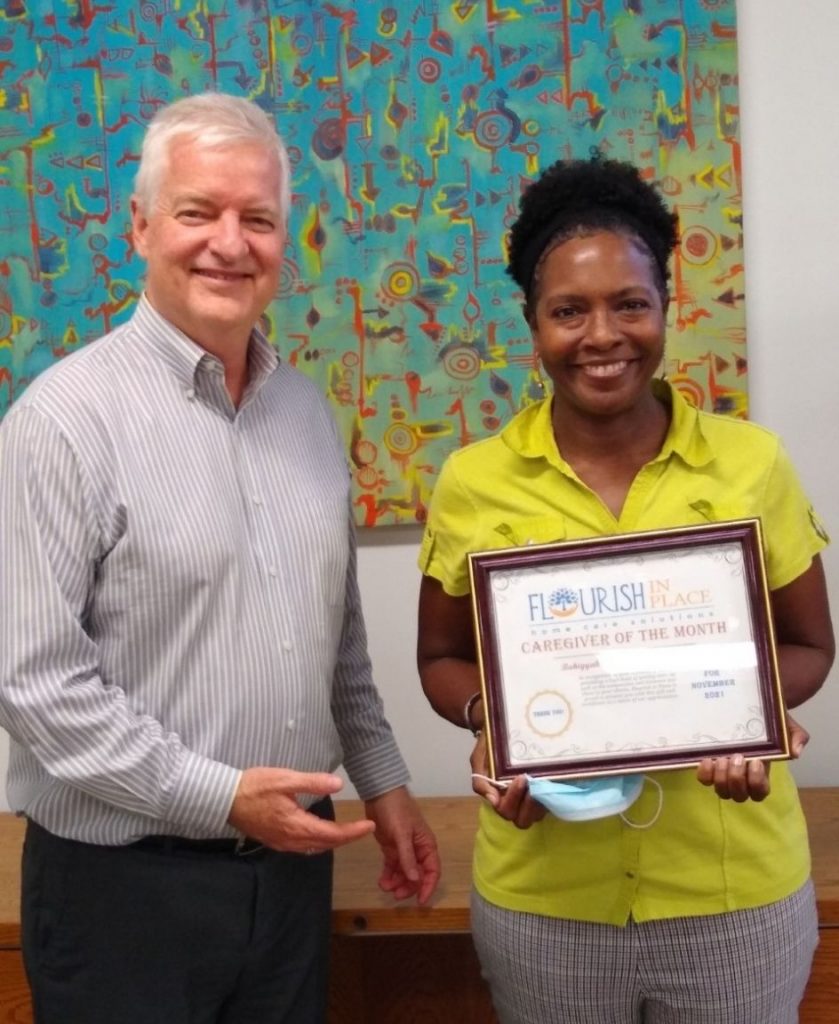 Bahiyyah's granddaughter started school this year, and the City of Winter Park asked her to return to work there as a Permitting Specialist. As part of the terms of her return, Bahiyyah wanted to make sure to set aside time to continue to care for two of her long-time Flourish in Place clients. She also occasionally does some weekend caregiving work for Flourish in Place. 
For a couple of years, Bahiyyah cared almost daily for a long-time client of ours, Charles. He recently went on hospice care at home and passed away from Parkinsons. She arrived every morning at 6:00 am, and Charles needed a great deal of care, but Bahiyyah never felt this was any burden. When she arrived recently he had just passed, in his home with his wife, where he wanted to be, not in a hospital or other facility. Bahiyyah remembers the last thing he said to her when she left the day before was simply, "thank you so much."
Congratulations, Bahiyyah, and thank you for your dedication and compassion in caring for our Flourish in Place clients.