Explore our proven methods for decreasing hospital readmissions

Defined as a patient being discharged from the hospital and then being readmitted for related care within one, two, or three months, hospital readmissions pose significant challenges for patients, families, and the healthcare system. [1] To combat this issue, in-home care has emerged as a promising solution. At Flourish in Place, we recognize the importance of reducing readmissions and improving patient outcomes.
Continue reading to learn more about hospital readmissions and explore how our non-medical in-home care services can effectively contribute to reducing hospital readmissions.

What is the problem with hospital readmissions?
With the U.S. hospital readmission rate exceeding around 15% on average within 30 days after discharge, the impact this has on patients and the healthcare systems is substantial. [2]
While hospitals have complex systems in place, patients cannot stay for extended periods due to cost and health considerations. Collaboration with non-medical home healthcare agencies has shown promise in reducing readmission rates and improving patient outcomes.

How can hospital readmissions be combatted?
With more than 75% of hospital readmissions being avoidable, the key to combating readmissions lies in proper patient education and care coordination. [2] There are several steps one can take in order to counteract hospital readmissions:
Proper education is a critical factor in reducing hospital readmissions. Discharge planners play a crucial role in providing patients with comprehensive information about their condition, including instructions on medication schedules, the proper use of medical equipment, and follow-up appointments.
Electronic health records can also greatly improve care coordination by enabling the collaboration of healthcare records in a centralized location accessible to patients, physicians, and healthcare providers.
Task forces involving various stakeholders are very important in the effort to decrease readmissions, as they work together to identify root causes and implement preventive measures for future occurrences.

What can non-medical home care agencies do to help?
Non-medical home care services play a vital role in reducing hospital readmissions by offering crucial support. Caregivers can provide assistance with:
Dietary needs by ensuring access to nutritious meals and promoting compliance with special diets. They also help with groceries, cooking, and cleaning to create a healthy living environment.
Transportation and communication support are provided to attend doctors' appointments and maintain effective communication with healthcare providers.
Actively monitoring vital signs, promptly identifying early signs of infection, and addressing post-discharge symptoms also effectively prevents readmissions.
Companionship, fostering social interaction, and enhancing overall well-being.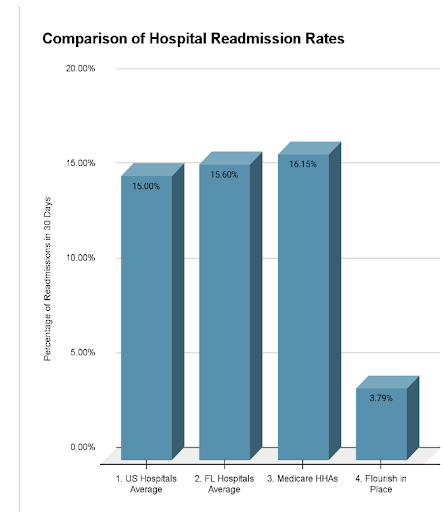 Flourish in Place has proven to have the lowest hospital readmission rate of 3.79% through the previously stated benefits of an in-home caregiver. [2] Those who have chosen Flourish in Place have not only had a reduced readmission rate, but have been able to flourish in the comfort of their own home as they recover. 

Looking for a non-medical home care service for you or a loved one?
Flourish in Place is a licensed home health "private duty" agency offering non-medical supportive care for seniors and others in their chosen home environment.
We provide non-medical home care specialized services including dementia care, cooking and serving nutritious meals, companionship and support, light housekeeping, and medication reminders.

To learn more, please request your Free Consultation today!

Sources:
1: HealthCare.gov | Hospital readmissions
2: Flourish in Place | We are the answer to the hospital readmission problem!