Knee replacement surgery is used to repair damaged knee joints. It is meant to make the joint more functional and reduce the pain caused by disease and damage. Knee replacement is a surgery that is planned ahead of time, giving your aging relative an opportunity to prepare for it.
Below are some tips for helping an older adult to get ready for knee replacement surgery and make their results even better.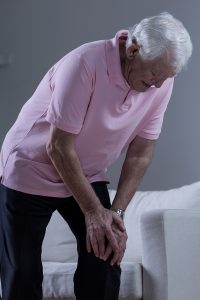 Ask the Doctor About Physical Therapy Before Surgery
Research shows that people who participate in physical therapy before knee replacement surgery may feel less pain after surgery and their new knee may function better. Physical therapy helps to strengthen the muscles around the knee, giving it more support.
Get the House Ready
Making some simple modifications to the older adult's living area can make recovery safer and easier. If the senior normally sleeps in an upstairs bedroom, create a temporary sleeping area for them on the main floor of the house. Unless, of course, the only bathroom is upstairs. Then, it may be wiser to set up a living area for them on the upper floor. Make sure the area they will stay in has all the things they will need to be comfortable, like a television and a chair to sit in. In addition, put grab bars in the bathroom to give the older adult something to hold on to when they are getting in and out of the shower or using the toilet.
Review the Doctor's Instructions
The doctor will give your aging relative specific instructions to follow before surgery. They may be asked to stop taking or decrease certain medications. If they smoke, they may need to stop or cut down on smoking prior to the surgery. Review the instructions the senior received so that you are aware of what changes they need to make and the timing of the surgery.
Practice with Assistive Devices for Mobility
If the older adult will be using crutches, a walker, or a cane after the surgery while they recover, it may be wise for them to practice using the assistive device before surgery. This can make using them after surgery when their knee is fragile and sore easier and safer.
Arrange for Home Care
Your aging relative is going to need a lot of help in the weeks following surgery. A home care agency can send a staff member to the senior's home on their schedule to help them with anything they need. Home care providers can help them get safely in and out of a bed or chair to go to the bathroom or just move around a little. Home care providers can also cook meals for them and keep their house tidy. If the senior needs transportation to run errands or get to medical appointments, home care can drive them where they need to go.
Sources:  https://www.webmd.com/osteoarthritis/knee-replacement-18/knee-surgery-prepare
https://www.arthritis-health.com/surgery/knee-surgery/how-prepare-total-knee-replacement
https://www.mayoclinic.org/tests-procedures/knee-replacement/about/pac-20385276
If you or an aging loved-one are considering Home Care Services in Winter Park FL, please contact the caring staff at Flourish in Place Home Care Solutions today.  Proudly serving Orange, Osceola, Seminole, and Brevard Counties. Call 407-845-9797.