Learn about the surprising benefits of an in-home caregiver for you or your aging loved one
What comes to mind when you think of an in-home caregiver?
You may be familiar with the idea of someone who helps ailing seniors with personal care such as bathing and getting dressed. But in reality, an in-home caregiver can do so much more.
At Flourish in Place, we're committed to providing compassionate and consistent care.
While our care team does provide the expected services like personal care and medication assistance, they also provide services that many people don't expect.
Keep reading to learn 5 surprising benefits of an in-home caregiver and how a Flourish in Place caregiver can help you flourish in the comfort of your chosen home environment.
#1: Cooking and serving nutritious meals
As you age, taking proactive steps to remain as healthy as possible is one of the most effective ways to prevent your risk of illness and disease.
Ensuring that you eat nutritious foods and drink plenty of fluids each day is an important component of achieving optimal wellness as you grow older—and one of the surprising benefits of an in-home caregiver!
At Flourish in Place, our staff of caregivers are able to prepare and serve nutritious meals to our clients as a part of our services. If you have specific dietary restrictions, we can work closely with you and your dietician or doctor to ensure that you receive the proper nutrition to keep you healthy and well.
#2: Light housekeeping
Oftentimes as you grow older, you find yourself facing limited mobility and health concerns—making chores that were once routine seem nearly impossible.
It's essential to make sure your home is as practical as possible, so you can stay safe, comfortable, and independent. For example, keeping your home tidy and organized is important so you can navigate safely and reduce the risk of falls.
Learn more:
Home modifications for seniors, room by room
Our caregivers are able to provide you with light housekeeping and laundry services, so you're supported in the most effective way possible.
Our care team can complete household duties such as:
Tidying and vacuuming
Laundry
Changing bed linens, and
Washing dishes.
#3: Transportation
Seniors need to be able to get around town to shop for groceries, pick up medication, and socialize with friends—but driving often becomes more challenging as you grow older. The ability to drive is often also a point of contention between the elderly and their family members as they age.
Providing seniors with transportation is often one of the most surprising benefits of an in-home caregiver.
To give peace of mind to our clients and their families, our caregivers happily provide transportation and run errands for clients who struggle with driving independently.
Our care team can transport you to and from places such as:
Doctor's appointments
Social activities
Shopping, and
General errands.
#4: Companionship and support
Living independently can often lead to loneliness for seniors. That's why our caregivers are committed to providing compassionate and innovative care for seniors who are searching for a companion to assist with daily activities.
Our companionship and support services for seniors provide the following:
Cheerful conversations
Arts and crafts activities
Assistance with daily exercise
Medication reminders, and
More.
Learn more:
How companionship helps seniors thrive
Many of our caregivers, including Vandie Loper, are specially trained in the use of art therapy to build trust and encourage engagement with clients suffering from dementia. Below is a collage of art projects by one of Vandie's Flourish clients who has early onset Alzheimer's Disease.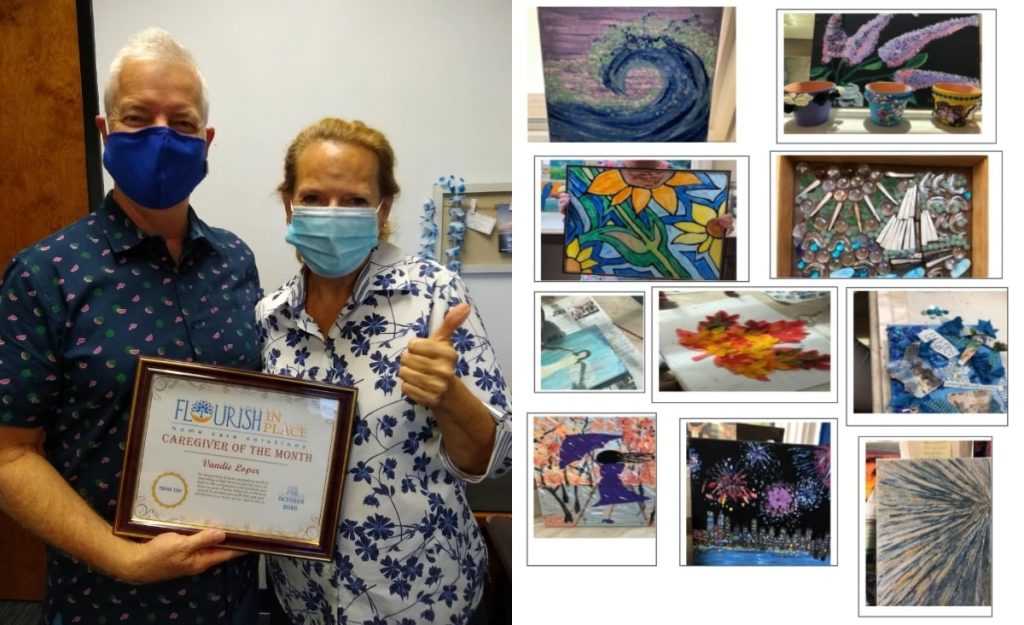 #5: Respite for family caregivers
Family caregivers for the elderly often forget to make time for themselves. As a result, they may find themselves drained from constantly caring for their aging loved one. At the same time, seniors who require assistance with daily activities often feel like a burden to the family members who help them.
We're proud to offer temporary care for seniors, so that primary family caregivers have time to rest, relax, and rejuvenate. Our compassionate caregivers are committed to providing our clients with the same level of care and support as their family members.
In conclusion
As you age, it's important for you to find the support that you need to maintain your health and avoid illness as effectively as possible. In-home caregivers provide more than most people expect—from small tasks, like medication reminders, to vital chores such as meal preparation and transportation.
The support and companionship of a Flourish in Place in-home caregiver may be just what you or your aging loved one needs to continue successfully aging in place.
To learn more, please request your Free Consultation today.